Chemical-free water treatments
A pure and simple solution free of chemical products that uses proven technology for unequalled control of scale, corrosion and bacterial proliferation.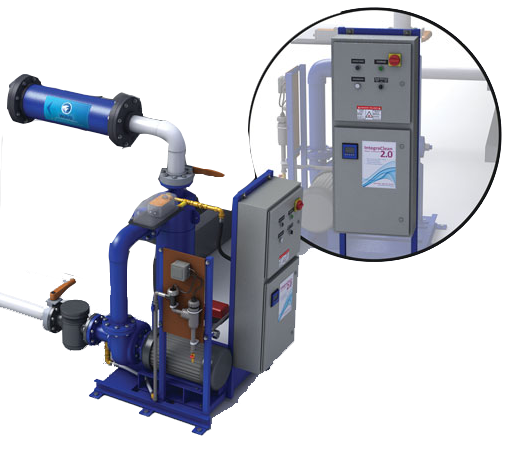 The new priority for cooling tower managers and owners
Why use a chemical-free treatment for your cooling tower? 
Increase the energy efficiency of your cooling towers

Reduce your operating costs

Comply with RBQ regulations

Eliminates corrosion

And many other advantage

s
There is a simple, powerful and ecological solution. The chemical-free WAVETM water treatment system for your cooling towers reduces operating costs and improves water management, as well as significantly shrinks your ecological footprint and helps you earn valuable LEED points.  
Complies with RBQ regulations
100% elimination of chemical products
No chemical products handling or spill hazard
Eliminates the need for protective equipment during handling
Eliminates putting chemical waste into the sewer system
Reduces non-recyclable waste (plastic containers)
Protects occupants and operators against the risk of exposures to chemical products (CNESST)
Clean, proven technology
By opting for a 100% clean treatment through encapsulation and electromagnetic pulsation, you can effectively control microbiological activity, limit corrosion and thus eliminate the risks associated with the presence of legionella in your equipment. When encapsulated in a harmless light powder and/or damaged by electric shock, bacteria cannot reproduce, and its lifespan is reduced to a maximum of 48 hours.
In addition, the water in your cooling towers, like all drinking water, contains minerals such as calcium carbonate and magnesium, more commonly known as "limestone". Constantly in contact with this limestone-laden water, the metal components in your cooling towers are prone to iron and/or copper oxide formation, which attacks the surfaces and can lead to corrosion. Whether uniform or localized, corrosion inevitably causes the system to deteriorate.
To increase the anticorrosive properties of your equipment and to prolong its life, electromagnetic pulsation technology (EMP) saturates the calcium carbonate found in the water, thus forming a very powerful 100% natural corrosion inhibitor. Your system is also protected from any localized corrosive attack caused by microbes or chemicals.
Chemical-free water treatment.
Proven technology is available.
BAULNE is proud to be the distributor of patented GWS chemical-free water treatment technology. BAULNE is dedicated to helping cooling tower managers and owners put smart, green solutions in place while ensuring substantial savings.

Located in Montréal and Québec City, BAULNE offers a wide range of HVAC services for many different business sectors. BAULNE offers HVAC services for industrial, commercial, office, residential and institutional applications.
Thanks to our portfolio of quality clients as well as our team of engineers and technicians that have proven expertise in HVAC, BAULNE  is one of the only Québec-based companies that offers 360-degree services, including building maintenance, design-build and optimization.