Building automation systems
A solution for your commercial or industrial energy control systems (immotics). We offer design-build, maintenance and optimization services.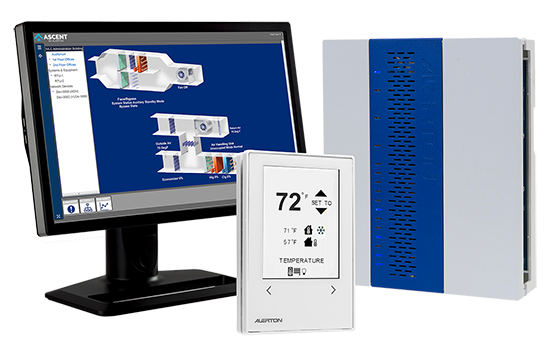 What is a building automation system?
The objective of an energy control and building automation system (or energy regulation system) is to provide optimal control for the occupants' comfort while minimizing energy consumption. These control systems ensure the proper and intelligent operation of:
Fans

Pumps

Heating and cooling equipment

Dampers

Mixing boxes

Thermostats
Monitoring and optimizing temperature, pressure, humidity, and airflows are key functions of modern building control systems.
Cost management and building automation systems efficiency
Installing an energy control system (regulation system) does not guarantee that a building will conserve energy. In fact, proper installation and proper servicing are essential for optimal operation in order to achieve any potential savings. Some methods work better to reduce your energy bill to its full potential. 


Providing sustainable, efficient technology that meets the highest quality standards on the market, ALERTON's solutions are easy to use for all your projects and updates. They don't bind you to complex, proprietary technologies:
Versatile
Can integrate various protocols
Native BACnet
BTL certified, open protocol
Compatible
From the first to the last version

Located in Montréal and Québec City, BAULNE offers a wide range of HVAC services for many different business sectors. BAULNE offers HVAC services for industrial, commercial, office, residential and institutional applications.
Thanks to our portfolio of quality clients as well as our team of engineers and technicians that have proven expertise in HVAC, BAULNE  is one of the only Québec-based companies that offers 360-degree services, including building maintenance, design-build and optimization.